STUDIO & GALLERY EXHIBITIONS

May 7th from 2 pm - 4pm
Michele will be at the Gallery on Saturday for signing.

Limited edition prints of Michelle's "White Peonies" will be available at Teresa Seaton Studio and Gallery on May7th. Just in time for Mother's Day.

White Peonies was exhibited by invitation at the SNBA Canadian Delegation, Louvre, Paris.
Sizes will include:
Giclee Canvas Print Size:
24" X 30"
(same size as the original painting)
Limited edition size 100

Size: 16" X 20"
Limited edition size of 200
Giclee Museum grade watercolour paper
Size: 16" X 20"
Limited edition size: 200
Size: 11" X 14"
Limited edition size: 200

Michele Van Maurik, Fine Art • April - May 2016
Tamara Kwapich, Fine Art • June - July 2016
Artist Reception
Sunday June 5th, 2016 1-4pm
Michael Zarowsky, Fine Art • Aug - Sept 2016
Barry E, Fine Art • Oct 2016
Art in Action • First weekend in Nov 2016
AGOG Christmas Glass Show & Sale • Dec 2016
George Wilkinson, Wooden Treasures • Feb - Mar 2017
Dan Johdan, Stone Art • June -July 2017
Lorraine Roy, Textile Artist • Aug - Sept 2017
Tzvia, Collage • Oct 2017
Art in Action • First weekend in Nov 2017
AGOG Christmas Glass Show & Sale • Dec 2017


March 2016
Guitar Hamilton will be raffling a panel of mine.
Was thrilled to be asked to design and fabricate, using paua shells around the hole.
For more information contact www.guitarhamilton.com

December 2015
AGOG Christmas Show -Burlington Post
December 2015
Buriington Mural Project

Judy Mayer-Grieve: King Road Underpass, Ward 1
Claire Hall: Freeman Station, Ward 2
Teresa Seaton: Amherst Park, Ward 3
Hannah Sell and Liam Racine: Port Nelson Park, Ward 4
Tamara Kwapich: Orchard Community Park, Ward 5
Donna Grandin: Ireland Park, Ward 6
@ Home Interview 2015
with Tomy Bewick and Myself about Feathers for the Fallen

Stained Glass Classes 2015
Art Gallery of Burlington
NExt coruse starst

2014
Look who made it to television.
Thanks to my friends Carm and Jason at Play Advertising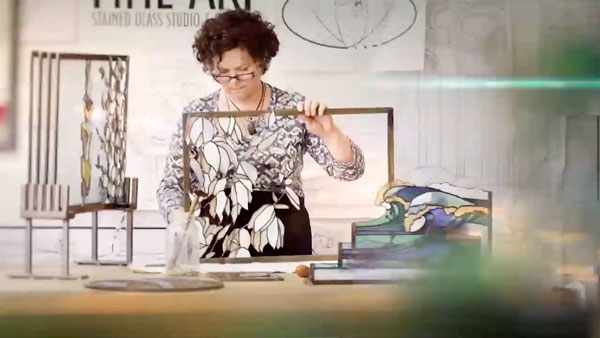 2014
Burlington Culture... Many Voices One Vision